Not that you probably ever wanted to know this statistic, but if you live to be 80 years old, you will have spent about 300 days of your life on the toilet—almost a full year sitting on the porcelain throne! We're not saying you should whip that information out at your next dinner party, but it does make us think about how important a good toilet is.
So, what is the best toilet brand? The answer to that will really depend on your personal preferences, but we'll break down some popular options for you.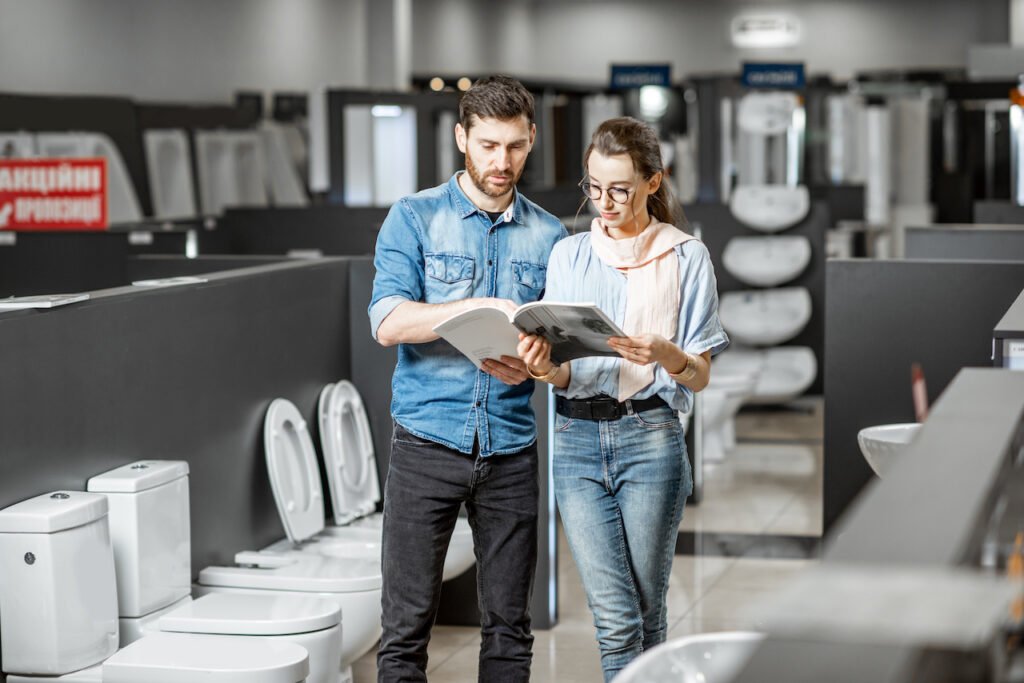 Best Budget Toilet
The TOTO Entrada Two-Piece takes the #1 spot for the least expensive. It's a basic, no-frills toilet with a low-profile design and E-Max flushing system that uses 1.28 gallons of water per flush (GPF).
At a little over $2 and 4.4 out of 5 stars on Amazon, it's a great budget option that still gets the job done.
Best Splurge Toilet
If you're willing to shell out a little more cash, Kohler's Cimarron Comfort Height Two-Piece toilet offers a sleek design and some added features. It has an AquaPiston flushing system, which uses 1.28 GPF, and is ADA compliant with a comfort height seating. It also includes a Quiet-Close lid, so you won't have to deal with that annoying slamming sound at 2 AM.
This toilet will set you back about $500, but customers rave about its efficiency and quietness.
Best Smart Toilet
If you want to take your bathroom game to the next level, check out Kohler's Numi Intelligent Toilet. It has all of the bells and whistles—heated seat, foot warmer, Bluetooth connectivity, touch screen remote control, air dryer, and deodorizer.
But that's not even the best part—this toilet also has a bidet feature with an adjustable water temperature and pressure settings. Talk about luxury!
Just be prepared to spend a pretty penny on this high-tech option—it's currently listed at over $5,000.
Best Dual Flush Toilet
For those looking to conserve water, the American Standard H2Option Dual Flush Two-Piece toilet offers a dual flush option with a low 0.92 GPF for liquids and 1.28 GPF for solids. It also has a power wash rim that scrubs the bowl with each flush, ensuring a clean toilet every time.
This toilet has a sleek, modern design and is available for $457.
Best Overall Toilet
It's hard to beat the Kohler Corbelle Comfort Height Toilet. It's a little higher than the average toilet and has an elongated bowl, which customers claim is much more comfortable. The trapway (or "stand") of the toilet is skirted, which means it doesn't have all the nooks and crannies of a usual toilet. This makes it a lot easier to clean and gives it a more modern look.
It is on the more expensive side at $486, but customers love its flush power and how easy it is to keep clean.
The Importance of Having a Toilet At All
So, there you have it—a range of options for any budget or preference. Just remember to sit back, relax, and enjoy your 300 days on the throne.
We love a good toilet, but what we love even more is making sure that everyone who needs a toilet has one. And right now, 2.3 billion people worldwide do not have access to safely managed sanitation. At ZuLoo, we're trying to change that.
When you give someone a safe, clean place to go to the bathroom, you're giving them more than a toilet. You're giving them dignity, health, and the chance for a better future. So, upgrade your own toilet and enjoy it—but also consider giving someone else that same luxury. Visit our website to learn more about how you can help provide access to sanitation worldwide!